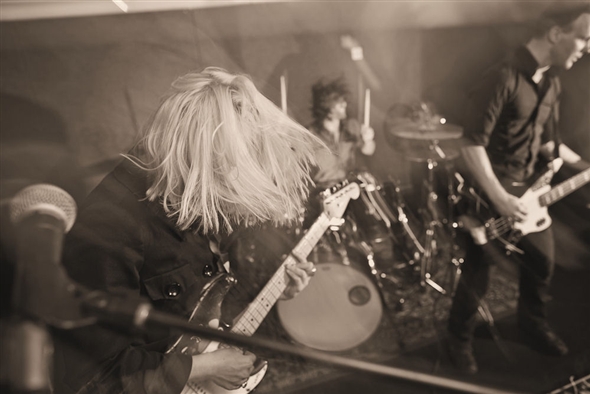 I've got the joy, joy, joy, joy deep in my heart,
The Joy Formidable, a three piece rock band from North Wales. The Formidable ones currently reside in London, Engerland. Members of the band include Ritzy Bryan (lead vocals, guitar) Rizzo to her nearest and dearest friends, Rhydian Dafydd (bass guitar, backing vocals), and Matt Thomas (drums, percussion).
Rizzo and Rhydian played together in various bands such as "Tricky Nixon" and "Sidecar Kisses", before destiny led them back to Mold....."Pause (Apparently Mold is a place in Wales) Continue"......to form The Joy Formidable. Their music has been described by world acclaimed best blogger types as Epic, charming rock, Arcade Fire esc with a hint of possibly Metric or the subways, mainly because both bands have blonde bob cut women in them, not unlike The Joy.
"The Big Roar" is on sale right now, Right Now! Get it!
The Big Roar Ultimate Fan Limited Edition Boxset consisting of - The Big Roar album, bonus CD "It's Just A World Apart" with six extra tracks, two DVDs, including their entire live set in May 2010 at the Mercury Lounge, music videos, commentaries, and behind-the-scenes, a signed authenticity certificate and an exclusive enamel badge. If all that wasn't enough the first 300 copies also get a piece of Ritzy's smashed guitar. Sadly the aforementioned is now sold out, Pissed off? Me too!
Lucky Bastards!!!
If you like what you hear then check out the bands official website and the video links below.
(Thanks as always too Wikipedia and Youtube)